Marie Myles
Integrative Counsellor and Psychotherapist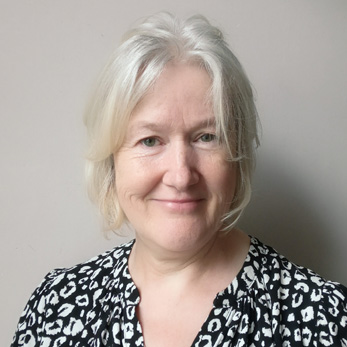 As an experienced integrative counsellor and psychotherapist – I can offer you a safe and non-judgemental space to talk openly about your personal challenges. Therapy sessions provide a welcome opportunity to get things off your chest – maybe previous experiences which were challenging, or hard to talk about. Or perhaps you struggled to find the support you needed to feel heard and understood at the time. Keeping familiar or distressing thoughts and emotions at bay can sometimes become an effort. Or you might find difficult thoughts or feelings keep coming up for you time and time again when they have been difficult to fully digest or come to term with.
As an integrative counsellor and psychotherapist, I can meet you exactly where you are, explore with you what you are trying to dealing with and how this may affect you in your day to day life. Together we can explore what's been difficult or what kind of support you need to feel differently or consider things in a wider context.
You are welcome to bring all aspects of your self and your experience to sessions. Any life event or ongoing circumstance which matters to you is valid – such as work related stress, difficult communications / interpersonal dynamics with colleagues, or perhaps your partner, friends, or family. Maybe things not always turning out the way you'd hoped and the accumulative impact that might have on your expectations of life.
I can offer you my skills and experience as an empathically attuned listener and facilitator of the therapy process. I can provide you with a structured opportunity to reflect on your own personal tensions or pressures, at a pace which feels safe and comfortable to you.
As an experienced practitioner I can offer you support in a structured therapy framework to help you in the process of…
gaining new insights into your self and making supportive choices
allowing new ideas, or ways of coping to emerge for you over time
motivating yourself to move forward at your own pace
Strengthening inherent personal qualities of tolerance and resilience
Personal reflection can create opportunities for deeper change and personal growth. I believe in the inherent potential we all have for leaning and growth; finding new ways to understand or move beyond established personal beliefs or expectations.
My professional background – I have worked as a primary care counsellor with the NHS since 2015, supporting adults' from all walks of life, to cope effectively with experience and symptoms of depression and anxiety, or perhaps struggling with life events such as; personal loss/change, bereavement, grief or childhood trauma. Previously I have worked for several voluntary sector organisations, offering emotional support to adults' as a trainee counsellor while studying for my diploma and later professional accreditation.
Days I'm available at EmotionMatters
Here are the days I can see you in person or connect with you remotely
My fees
Standard session
£110
Standard 4-session block
£400
Qualifications & training
19/06/21 – Eating Disorders and Trauma, Online Workshop, Pam Virdi Training
26/09/20 – Online Private Practice Conference/Communication; Can You Hear Me, Bacp
05/10/19 – Working at Relational Depth, M. Cooper, Compassionate Mind Foundation
2&3/03/19 – Experiential Existential Workshop, G. Madison, Northern Therapeutic Alliance
07/02/19 – Emotional Pain – Science & Strategies, Dr. C. Dunkley, Gray Rock
06/10/18 – Dealing with Distress; Working with Self Harm & Suicide, Pods, Carolyn Spring
05/10/18 – Working with Dissociative Disorders in Clinical Practice, Pods, Carolyn Spring
18/03/17 -The Supervisory Relationship, R. Shohet, Stanton Therapies
29/01/17 – Assessment and Management of Suicidality, A Psychological Approach
07/2015 – Counselling for Depression Competency Certificate, Keele University
02/08/15 – Emotional Freedom Technique, Language Skills Master Class. Delves Assocs
09/2014 – Focusing Level 4 -Webinar, Focusing Resources
05/2014 – Focusing Level 3 -Webinar, Focusing Resources
03/2014 – Focusing Level 2 – Webinar, Focusing Resources
01/2014 – Focusing Level 1 – Webinar, Focusing Resources
12 &13/12/13 – Working with Trauma, Resolve Staff Support Service Training
27&28 /03/14 – Emotional Freedom Technique – Level 2 Training, Resolve
18 &19/11/13 – Mediation Training, Resolve Staff Support Service, Chesterfield
11/09/13 – Emotional Freedom Technique – Level 1 Training, Resolve
12&13/07/13 – Mindfulness in Relationship, Karuna Institute
12/05/11- Winnicott in The Workplace, West Midlands Institute of Psychotherapy
28/10/10 – Male Survivors of Sexual Abuse and Hidden Trauma, Wolverhampton Sexual Abuse Forum
10/07/10 – Tight Ropes and Safety Nets, Counselling Suicidal Clients, A. Reeves Training
11/06/10 – Teaching Clients to Use Mindfulness Skills, Birmingham, Stanton Therapies
30/04/10 – Introduction to Dialectical Behaviour Therapy, Birmingham, Stanton Therapies
13/02/10 – To Have and To Hold / Winnicott, C H Counselling & Psychotherapy, Worcester
14/11/09 – Exploring The Shadow / Jung, C H Counselling &Psychotherapy, Worcester
29/10/09 – Safe From Abuse, South Staffordshire & Shropshire Health Care NHS Foundation Trust, St Georges' Hospital, Stafford
27/05/09 – Attachment Theory and Adult Mental Health, UFP Mental Health Updates
07/04/09 – CBT Boot Camp – Building Core Clinical Competencies, Dr. C. Padesky
12/03/09 – Cognitive Behavioural Therapy for Depression, W. Suffolk CBT Service
06/03/09 – A Cognitive Behavioural Approach to When Therapy Gets Stuck, Stanton
28/03/05 – Working with Grief and Loss, Stafford & District Bereavement and Loss Service
2004 /07 – Diploma (Higher Education) Integrative Counselling, University of Birmingham
2003 / 04 – Counselling Skills Certificate, University of Birmingham
1985 / 88 – Registered General Nurse Training, Charring Cross School of Nursing, London
1981/ 85 – B.A (Hons) Interdisciplinary Human Studies, University of Bradford
Membership of professional bodies
Accredited Member, British Association of Counselling and Psychotherapy
How i offer psychotherapy
I work with clients across the UK, and around the world, using Skype, FaceTime & Zoom. There is no need to travel, and you can feel comfortable in your own home. It is free to set up and simple to use, so why not give it a try?
I offer sessions in English
LET US EXPLAIN HOW WE CAN SUPPORT YOU
If you are interested in meeting with a practitioner, feel free to book an assessment call with our Client Support team.

We want to understand what is going on for you, and help match you with the right practitioner.

We value being clear and open about our prices, so please check Our Fees  before booking a call.