Depression
DEPRESSION COUNSELLING – DEPRESSION THERAPY – DEPRESSION TREATMENT
What Is Depression?
Depression is a mental health condition that is characterised by feelings of low mood, worthlessness and low energy. These experiences can affect your life in many different ways, make completing everyday tasks more challenging.
On this page you can find out more about what depression feels like, what symptoms you may be experiencing, and the different types of depression.
You can also find out how depression treatment, including psychological therapy and nutritional interventions, can help you alleviate your symptoms and improve your wellbeing.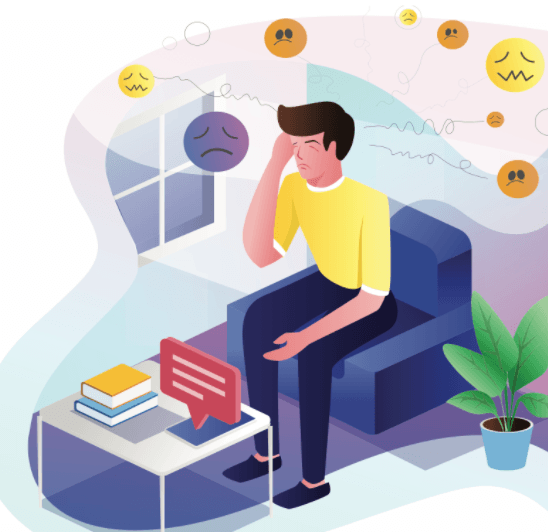 WHAT IS DEPRESSION LIKE?
People often describe depression as a condition that comes in and settles over your mind like a cloud. These dark days can be lonely and debilitating, turning your world upside down.
You might find yourself withdrawing from friendships and social life, even finding it hard sometimes to leave your home, or your bed.
On the outside, you might be putting all your effort into holding things together, because you feel scared that others will judge or not believe you, or perhaps because you're striving to meet the high expectations that you hold yourself to.
Depression can make you feel low, numb, isolated and ashamed. Depression can also trigger emotional eating and binge drinking as a way of drowning out your experience.
BOOK A CALL WITH OUR FRIENDLY ASSESSMENT TEAM
Choose a day and time that works for you.
Tell us what is going for you.
Let us explain how we can help.
WHAT ARE DEPRESSION SYMPTOMS?
There are a range of emotional, physical and social symptoms that you may experience if you are suffering with depression:
Low mood, tearfulness
Feelings of worthlessness
Lack of motivation, finding it difficult to make decisions
Suicidal thoughts
Tiredness, disturbed sleep
Changes in appetite
Avoiding social situations, isolating yourself
WHAT ARE THE DIFFERENT DEPRESSION DISORDERS?
You may experience depression in different ways. Below is a list of different depression disorders and what your experiences might feel like.
CLINICAL DEPRESSION
Clinical depression is one of the most common types of depression. You may experience the symptoms listed above due to several possible triggers.
Biological factors, such as having a family history of depression, may make you more likely to experience symptoms.
Environmental factors, such as stressful life events, bereavement, loneliness, illness, and having a difficult relationship with food and eating can also trigger depression.
However, you may also feel that there is no one obvious trigger. Regardless, these experiences can be overwhelming and affect your ability to carry out day-to-day tasks.
SEASONAL AFFECTIVE DISORDER
Seasonal Affective Disorder (SAD) is most commonly experienced in winter, when there is reduced daylight.
You may find it difficult to get out of bed in the morning and feel tired throughout the day. You may have lost interest in activities you once enjoyed at other times during the year. You may also find yourself craving carbohydrates more than usual.
SAD may be triggered by different factors. Reduced sunlight may disrupt your internal biological rhythms, reduce your vitamin D levels, and disrupt the balance of chemicals in your brain that are responsible for regulating your mood, such as serotonin.
POSTNATAL DEPRESSION
Postnatal depression affects new mothers after giving birth and can be a distressing experience.
You may feel detached from your baby or have negative thoughts towards your baby. You may experience guilt and feelings of worthlessness as a result.
Postnatal depression can be triggered by biological changes in your body that happen after giving birth, including hormonal shifts that can impact your mood.
Postnatal depression can also be caused by a lack of social support, loneliness, and a difficult role transition to motherhood from your previous life.
FEEL WELL
If you are interested in our services, arrange a call with our friendly team.
We want to understand what is going on for you, so we can match you with the right practitioner.
We value being clear and open about our prices, so please check Our Fees before booking a call.
DEPRESSION TREATMENT AT EMOTIONMATTERS
At EmotionMatters, we understand that each person is unique and may experience depression in different ways. We offer a range of services for depression treatment, to help you feel yourself again.
DEPRESSION COUNSELLING
Depression counselling can help you develop useful coping skills to help you manage and reduce your depression symptoms and improve your wellbeing.
By identifying what triggers your depression and helping you challenge unhelpful negative thoughts and behaviours, we can help you rebuild your confidence.
DEPRESSION THERAPY
Depression therapy can help you gain a deeper understanding of your depression and how this affects your behaviours, relationships and the way you manage emotions.
Our experienced psychotherapists can help you understand the core issues that contributed to the development of your depression, and work with you to process difficult underlying emotions.
PSYCHIATRY
Our Consultant Psychiatrist, can provide you with a medical diagnosis of depression, and a treatment plan moving forwards that is designed to help you improve your depression symptoms.
Treatment may include depression medication, some exploratory blood tests, psychiatric coaching or ongoing support from our therapy and nutrition teams.
NUTRITIONAL THERAPY
We understand that nutrition, lifestyle factors and underlying imbalances can impact the severity of your depression symptoms.
Our nutrition team can work with you to identify any imbalances and nutritional deficiencies that may be impacting your depression symptoms, and help you improve your nutrition to support your recovery.
MINDHEALTH
At EmotionMatters, we believe the mind-body connection is powerful and can impact your depression symptoms.
Our integrated package, MindHealth, combines psychological and nutritional therapy to support you with your depression and improve your physical and mental wellbeing.
Self Help For Depression
You may not be ready to talk to us yet, so here are some self-help strategies that can help you improve your mood, and reduce your symptoms of depression:
Talk to family and friends and open up about your challenges and feelings, as this can make them easier to cope with.
Find some group support. Sharing your thoughts with others that are going through similar experiences can help you feel more connected.
Find a physical activity that you enjoy and make it part of your daily life. Exercise can help reduce symptoms of depression and improve mood. A simple walk in nature is a good start.
Keep a daily journal and write down how you feel. This can help you make sense of what is going on, and open up ideas of how you can change your circumstances.
Get enough sleep and exercise regularly. Exercise can divert your thinking from negative experiences, and ease feelings of anger and anxiety by releasing mood-lifting endorphins.
Eat a healthy diet to alleviate symptoms of depression, mood swings and tension.
Learn more about depression
Here are some articles and blogs about depression