Amit Vyas
Psychodynamic Pscyhotherapist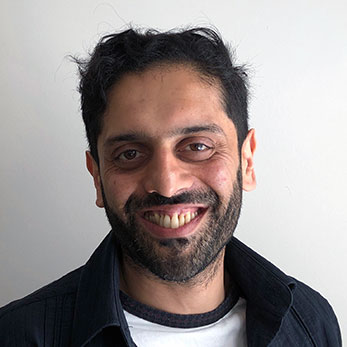 I am a psychodynamic psychotherapist, which simply means that I work on a deep level to help people to understand their personal journey through life, and how their relationships in the past and the present have helped shape who they are.
I have worked in the wider mental health field with people who have severe mental health conditions, as well as those who have had difficult or traumatic life circumstances. I have another role was as a wellbeing specialist working with a charity, where I help people who are struggling to overcome tough life circumstances. I am fascinated with the science around wellbeing and human optimisation; which is about the lifestyle and behaviours that best help people to flourish as individuals. Through this work I have come to develop a style that blends CBT, goal setting as well as deep therapeutic work.
As a child of immigrant parents, I also understand first hand how different cultural influences can complicate the relationship you might have both with yourself and with the outside world. How their can be a divided self that operates in two different cultural worlds and the struggle to be seen in either for who you feel that you are inside. If you feel conflicted about your identity and your place in the world, or if you are struggling to manage your family dynamics or find your voice, I am happy to work with you.
I strongly believe that there is a better alternative to medication for anxiety and depression. That these are symptoms of an overwhelming life pain that is too often attacked via anti-depressants, when what is really needed is for someone to help you make sense of your life. It is not an easy nor is it a painless process – but all that it takes is a commitment to begin the work. I will match your commitment by being with you for the journey to self healing.
Days I'm available at EmotionMatters
Here are the days I can see you in person or connect with you remotely
My fees
Standard session
£100
Standard 4-session block
£360
Qualifications & training
2018 – Mental Health First Aid Course
2018 – Health and Wellbeing Models as practical tools for change
2018 – Working with Neuro Diversity
2018 – Delivering Managing Anxiety Workshops for healthcare professionals
2017 – Working with Personality Disorders
2017 – Complex Mental Health Conditions and Supported Living
2016 – Dealing with Workplace Issues
2011- 2016 Post Graduate Diploma in Psychodynamic Psychotherapy
2010 Foundation Diploma in Counselling Skills
Membership of professional bodies
BACP Member (British Association of Counsellors and Psychotherapists)
How i offer psychotherapy
I work with clients across the UK, and around the world, using Skype, FaceTime & Zoom. There is no need to travel, and you can feel comfortable in your own home. It is free to set up and simple to use, so why not give it a try?
I offer sessions in English
LET US EXPLAIN HOW WE CAN SUPPORT YOU
If you are interested in meeting with a practitioner, feel free to book an assessment call with our Client Support team.

We want to understand what is going on for you, and help match you with the right practitioner.

We value being clear and open about our prices, so please check Our Fees  before booking a call.