Dr Liz Greenaway
Chartered Clinical Psychologist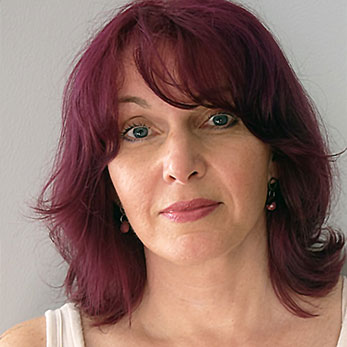 I was the child who always asked 'why' and was rarely satisfied with the answers I got from those bigger than me (at the same time as really annoying those being asked…). My journey to the space I now find myself in has been long and winding.
I began a career in the arts and trained as an actor. I was fascinated by people and the reasons behind their behaviour and I was drawn to working in groups of people I tended to see as 'family'. However, when I began my own family and gave birth to my son, my feelings towards myself and that vocation changed – I no longer felt the same draw to the applause, or wanting to keep feeling like the lowest of the low (acting for the majority is a hard life…).
During my child rearing years I diverted into business (design and construction) but when my company folded I was left feeling utterly lost. My future was a terrifying blank canvas. I sought help and through some deep work was drawn back to school.
I enrolled on a certificate in Psychology which then led to a degree (BSc Hons, Birkbeck), then a masters in Mental Health at King's College London, followed by a doctorate in Clinical Psychology at UEL (HCPC registered). I also have training in family and systemic psychotherapy, Internal Family Systems therapy (IFS, Levels 1 and 2) and Emotional Freedom Techniques (tapping).
I am trained in Cognitive Behavioural Therapy, Acceptance and Commitment Therapy, Compassion Focused Therapy, Systemic Family Therapy, Narrative Therapy, Solution Focused Therapy, Psychodynamic modalities, Emotional Freedom Techniques, strength-based techniques (such as Tree of Life). Most recently, I have trained in Conversational Leadership.
As a clinician, I am more integrative and eclectic in my practice and draw on many aspects of the different schools depending on the needs of the client. I think it is also important to note that it is not the modality that will necessarily bring about the desired change, it is the relationship with the therapist, so it is paramount to me that you feel safe and contained in our connection.
I have worked across the NHS, third sector and privately and have experience of working with a broad range of emotional and psychological difficulties throughout the lifespan, with individuals, couples and families.
My experience has shown me that we are fundamentally seeking the same things but our traumas show up in different ways and get expressed through various presentations – we seek to numb the pain through addiction; we try to reduce our feelings of helplessness by controlling some aspect of our lives (such as eating); we defend against the trauma with anxiety and depression and so on.
You are the expert on you – it is my job is to support, contain, challenge (gently), reflect and accompany you on your journey to a place where you feel you have greater clarity, feel more grounded and have more awareness.
I am a seeker and the spiritual side of life is equally as important to me as the psychological aspects. I have had a meditation practice for over 30 years.
HOW I CAN HELP
We can work with any issue that arises throughout the lifespan – including depression, anxiety, trauma (including sexual trauma), eating disorders, ADHD, Aspergers, autism, bipolar disorder, OCD, panic disorder, psychosis, PTSD, self-harm, behavioural issues, life transition and adjustment issues, self-esteem issues, stress, addictive behaviours, family and relationship issues etc.
Days I'm available at EmotionMatters
Here are the days I can see you in person or connect with you remotely
My fees
Standard session
£150
Standard 4-block session
£560
Qualifications & training
BSc Honours First class degree in Psychology, Birkbeck University of London
MSc Distinction in Mental Health, King's College London
DClinPsy – Doctorate in Clinical Psychology, University of East London
Foundation in Systemic Family Therapy, Prudence Skynner Clinic St Georges
Trained in Conversational Leadership, Invitas
Emotional Freedom Techniques
Internal Family Systems Level 1 and Level 2
Membership of professional bodies
CPsychol
MBPSs
HCPC registered (PYL36086)
How i offer therapy
I work with clients across the UK, and around the world, using Skype, FaceTime & Zoom. There is no need to travel, and you can feel comfortable in your own home. It is free to set up and simple to use, so why not give it a try?
I offer sessions in English
LET US EXPLAIN HOW WE CAN SUPPORT YOU
If you are interested in meeting with a practitioner, feel free to book an assessment call with our Client Support team.

We want to understand what is going on for you, and help match you with the right practitioner.

We value being clear and open about our prices, so please check Our Fees  before booking a call.