Razeea Lemaignen
Psychosynthesis Counsellor and Psychotherapist in Training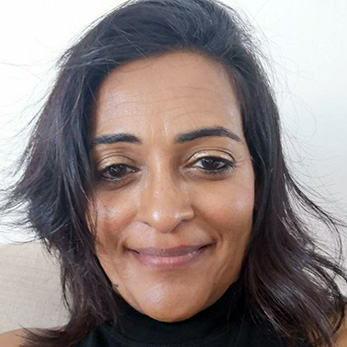 Sometimes life can be so overwhelming that we do not know how to cope or where to turn. Talking to a professional in confidence may help you to understand and acknowledge the feelings you are experiencing and enable you to begin to move forward in your life.
In psychosynthesis, we have the concept of Anamcara or "soul friend", someone who as your psychotherapist acts as a guide or fellow traveller, someone who "knows" the territory of the world inhabited by the psyche. So in a safe, confidential space, I will be travelling alongside you and explore your painful and difficult feelings and gain insight into how past experiences may have shaped you. This insight can lead to a profound change and growth and help you to deal much more effectively with emotional problems.
Examining your personal story could bring to light what it is that no longer makes sense to you and makes you feel unhappy. Together we will discover who you really are, exploring the conflicts, challenges and issues that are holding you back from experiencing a fulfilled life.
​I offer you the time, attention and respect necessary to explore, discover and help you with your difficulties. I will encourage and support you to access your own resources to help you make the choices required towards greater self-awareness.
My fees
Standard session
£80
Standard 4-session block
£280
QUALIFICATIONS & TRAINING
MA Psychosynthesis Psychology, The Institute of Psychosynthesis/ Middlesex University, UK
Diploma in Psychosynthesis Counselling, The Institute of Psychosynthesis/ Middlesex University, UK
Teacher Training in Mindfulness Based Stress Therapy, University of Exeter, UK
Level 2 and level 3 Certificate in Counselling Skills, CPCAB
GSK Internal Coaching Certification accredited by International Coaching Federation, GSK and ICF
Bachelor of Commerce (Honours) Marketing, University of Natal, South Africa
MEMBERSHIP OF PROFESSIONAL BODIES
Member of the British Association for Counselling & Psychotherapy (BACP)
Member of the Association for Psychospiritual Practitioners (APP)
Member of United Kingdom Council for Counselling & Psychotherapy
HOW I OFFER PSYCHOTHERAPY
I work with clients across the UK, and around the world, using Skype, FaceTime & Zoom. There is no need to travel, and you can feel comfortable in your own home. It is free to set up and simple to use, so why not give it a try?
I offer sessions in English
LET US EXPLAIN HOW WE CAN SUPPORT YOU
If you are interested in meeting with a practitioner, feel free to book an assessment call with our Client Support team.

We want to understand what is going on for you, and help match you with the right practitioner.

We value being clear and open about our prices, so please check Our Fees  before booking a call.