Patience Destiny
Integrative Counsellor and Psychotherapist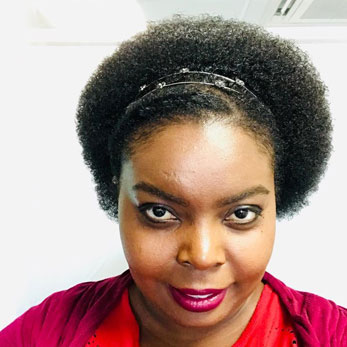 I am a qualified Counsellor/Therapist with over 11years' experience. I work within & adhere to the BACP Ethical Framework. My core training & approach to Therapy is Integrative using Humanistic/Person-Centred, CBT/Cognitive Behaviour & Psychodynamic modalities. My therapeutic work is geared towards You – the client's wellbeing and whole-being.
I offer 1:1 counselling support in a safe, confidential, nurturing, non-judgemental space for a varying range of issues – anxiety, trauma, abuse, family/relationship issues, behavioural issues, depression, addictive behaviours, general wellbeing. I offer therapeutic support to clients dealing with terminal/life threatening health issues, loss/bereavement/grief, anticipatory grief/loss/bereavement for patients and/or their loved ones & carers.
There are no text-book clients – You are the expert authority on what makes You uniquely You. In each unique therapeutic relationship, I explore the client's whole-being, past lived experiences & presenting issue(s). We collaboratively explore the right mixture of modalities/approaches to best work for you. I support you as you tap into your innate strength, capabilities & resources, for the changes you need towards your desired mental, emotional whole-wellbeing.
It's not an easy process, I'll at times challenge your inner dialogue, thoughts & beliefs, but it'll be worth the time, work & effort – I'll support you as you work towards Empowering & revealing to yourself clearer, newer, alternative, positive, grounded, manageable understanding of yourself and how you relate/deal with life.
You don't have to wait until a crisis to seek emotional or mental health support. It's part of one's ongoing self-care.
Days I'm available at EmotionMatters
Here are the days I can see you in person or connect with you remotely
My fees
Standard session
£110
Standard 4-session block
£400
Qualifications & training
2010 – FdSc Degree, Integrative Counselling – University of Greenwich, London
2007 -Diploma, Integrative Counselling Skills – Bromley College of Further & Higher Education (BCCS)
2021 – Trauma-Informed Governance & Therapy in Rwanda
2013 – Play for Healing & Growth (exploring the positive power of play, humour, laughter in life & in the therapeutic environment)- Bromley BCCS
2013 – Attachment & Character Strategies – Bromley BCCS
2012 – Dissociation (an exploration of dissociation as a self-regulatory process & survival mechanism) – Bromley BCCS
2012 – Introduction to Mindfulness – Bromley BCCS
2011 – Eating Disorders – Bromley BCCS
2010 – Mental Health First Aid Course – Beckenham Beacon Hospital
2009 – Managing Risk within Counselling – Bromley BCCS
Membership of professional bodies
How i offer psychotherapy
I work with clients across the UK, and around the world, using Skype, FaceTime & Zoom. There is no need to travel, and you can feel comfortable in your own home. It is free to set up and simple to use, so why not give it a try?
I offer sessions in English
LET US EXPLAIN HOW WE CAN SUPPORT YOU
If you are interested in meeting with a practitioner, feel free to book an assessment call with our Client Support team.

We want to understand what is going on for you, and help match you with the right practitioner.

We value being clear and open about our prices, so please check Our Fees  before booking a call.