Diana Bromboszcz
Integrative Psychotherapist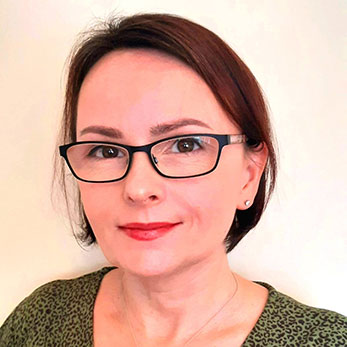 I am an integrative Psychotherapist with a background in psychology, transpersonal and body psychotherapy.
Over the past two decades I have worked in both statutory and charitable sectors as well as in private practice.
I have been helping people from diverse backgrounds with a variety of issues such as: addictions, complex trauma, illnesses including chronic and terminal conditions, bereavement, loss, grief, relationship issues, abuse including childhood adverse experiences and sexual abuse, depression, anxiety and stress. Also, I work with life transitions, life crisis, relationship breakdown and divorce.
I take a gentle and compassionate approach to allow the most vulnerable parts of us find safety and develop strength to overcome the challenges we face in our lives.
I believe in the uniqueness of every human being as we are shaped through our life experiences. Therefore, I take a holistic and eclectic approach, which allows me to adapt my skills to suit individual needs. I am driven by curiosity and the desire to understand not just the symptoms and behaviours represented by presenting issues, but also the stories behind them. I love to make connections between the past and the present, types of behaviours and the emotions behind them, and to find natural resources to restore balance.
Through my training in Body Somato Analytical Psychotherapy I have learnt about the importance of our relationship with our body, listening to our body and finding the solution from within. I believe that our psyche is striving to find resolutions to our complexities, which the body holds.
I am trained in EMDR and Brainspotting, which are approaches which I have integrated into my practice. Other approaches includes elements of Systemic Family therapy, Mindfulness, CBT, ACT and Process Oriented Psychology.
Days I'm available at EmotionMatters
Here are the days I can see you in person or connect with you remotely
My fees
Standard session
£130
Standard 6-session block
£680
Off peak
£115
Off peak block
£600
Half Breakthrough Day
£500
Qualifications & training
European Diploma In Body Somato Analytical Psychotherapy (L'EPSSA), France,
PG Diploma in Counselling and Psychotherapy; Centre for Counselling and Psychotherapy Education (CCPE), London
MA in Psychology; Jagiellonian University in Krakow,
Foundation training in Family Systemic Therapy (AFT approved), Post Graduate Centre at St Georges NHS trust in Belmont;
Certificate in Process Oriented Psychology, POP Warsaw,
EMDR fully trained therapist, UK
Membership of professional bodies
I hold Full Clinical Accreditation with United Kingdom Council for Counselling and Psychotherapy (UKCP)
How i offer psychotherapy
I work with clients across the UK, and around the world, using Skype, FaceTime & Zoom. There is no need to travel, and you can feel comfortable in your own home. It is free to set up and simple to use, so why not give it a try?
I offer sessions in English and Polish
LET US EXPLAIN HOW WE CAN SUPPORT YOU
If you are interested in meeting with a practitioner, feel free to book an assessment call with our Client Support team.

We want to understand what is going on for you, and help match you with the right practitioner.

We value being clear and open about our prices, so please check Our Fees  before booking a call.