Christine Everley
Person-Centred and CBT Counsellor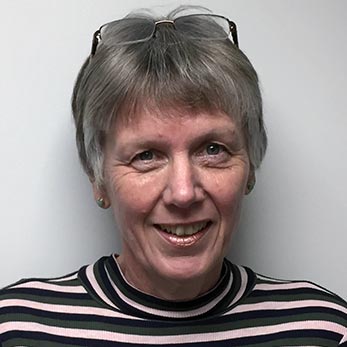 I am a person centred counsellor and an accredited member of the British Association for Counselling and Psychotherapy (BACP). I also have training in the use of cognitive behavioural therapy (CBT) because I found it helpful when I received counselling. My written work for my professional accreditation with the BACP focused on how a combination of person centred and CBT interventions help clients.
I have worked at a number of public and private organisations. I worked with Macmillan to set up and run support groups for cancer patients and their carers. I volunteered for a number of years at a youth counselling agency. I have extensive experience of working with people diagnosed with dementia and their carers. I cared for my mother-in-law who had Alzheimer's so I have personal experience of the disease as well as professional experience. I have worked for the NHS, both as counsellor to the public at GP surgeries and as a staff counsellor at hospitals helping people with work-related problems such as stress and conflicts with colleagues.
There are many reasons why people choose to see me for counselling. It doesn't have to be a big problem, anything that matters to you or you would like to discuss can be shared. Most people at some time in their lives experience difficulties or feel things just aren't as they hoped they would be. It's often difficult to speak to those closest to you. Family and friends may have their own views and find it difficult to accept your perspective.
Talking things through with a trained counsellor can really help. I have experience in helping clients with a broad range of issues, including but not limited to; depression or unhappiness, anxiety, low self-esteem, relationship counselling, anger management, stress, couples counselling, young people, eating disorders and bereavement.
I provide a safe, confidential place to talk about your life. You will not be judged or given advice. Counselling is about helping you to develop insights into your problems and find your own resources and strength to tackle them. There is no concern or problem that is too big or too small to talk about.
Days I'm available at EmotionMatters
Here are the days I can see you in person or connect with you remotely
My fees
Standard session
£130
Standard 4-block session
£480
Qualifications & training
2018 – course run by the Beck Institute, 'Essentials of CBT'
2018 – course run by Dr Russ Harris, 'Acceptance and Commitment Therapy'
2018 – course run by the National Centre for Eating Disorders on obesity
2018 – British Psychological Society Essential Supervision Skills
2018 – workshop 'Developing CBT Skills for Working with Young People with Eating Disorders'
2016 – course 'Nutrition for Counsellors'
2015 – workshop for eating disorders at the Maudsley Hospital
2014 – course on couples counselling run by National Marriage Seminars in the USA
2014 – course on bereavement run by the BACP
2013 – course run by Beat, 'Eating Disorder Masterclass'
2013 – course 'Person Centred Couples Training'
2013 – course 'Working with the Survivors of Childhood Abuse'
2013 – course on anger management
2012 – 2013 – Certificate in CBT for Qualified Counsellors
2012 – course on self-esteem
2012 – course 'Understanding Young People Who Hear Voices' run by Voice Collective
2010 – 2012 – ABC Level 4 Diploma Theory & Practice of Counselling
2009 – 2010 – ABC Level 3 Certificate in Counselling Skills
Membership of professional bodies
Accredited member of the British Association for Counselling and Psychotherapy since 2014
How i offer psychotherapy
I work with clients across the UK, and around the world, using Skype, FaceTime & Zoom. There is no need to travel, and you can feel comfortable in your own home. It is free to set up and simple to use, so why not give it a try?
I offer sessions in English
LET US EXPLAIN HOW WE CAN SUPPORT YOU
If you are interested in meeting with a practitioner, feel free to book an assessment call with our Client Support team.

We want to understand what is going on for you, and help match you with the right practitioner.

We value being clear and open about our prices, so please check Our Fees  before booking a call.