Chloe Adam
Nutritional Therapist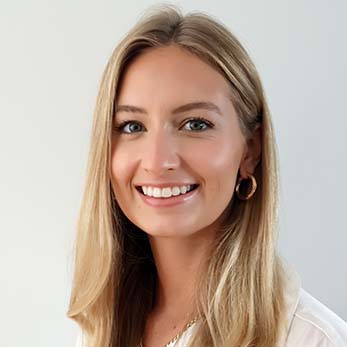 I have always had a passion for health, both mental health and physical health and believe they are equally important to living a happy and healthy life. I initially studied my BSc (Hons) in Psychology and believe that everyone should have the support they need to have a healthy mind. I went on to study Personalised Nutrition and learned about the power that nutritional interventions can have in supporting mental health and physical health.
I am trained in Functional Medicine, which considers the body as a whole and addresses the root cause of issues. The body is an interconnected web and optimal health comes from balance in all areas. I use the Functional Medicine approach within nutrition by assessing biochemical imbalances in the body as a whole, from digestion to detoxification, to help each system to work harmoniously and allow your body to function efficiently. There are many different factors that can disrupt these balances, which may lead to a variety of different symptoms from acne to anxiety.
I have experienced both the detrimental effects of illness and how that can not only leave you in pain and discomfort, but the wider ranging impact it can have on your confidence and self-worth. I used functional nutrition to repair my own health and have seen first-hand the power that this can have in restoring your health, vitality and happiness. This has fuelled my passion to help others in the same way I have done for myself, and has furthered my empathy and understanding of how you may be feeling.
I believe that everyone is unique, we each have a different set of genetics, lifestyles, food preferences and different health goals. This means that there is no 'one size fits all' diet. My approach is to work together with you, in a supportive and judgement free manner, to create sustainable personalised nutrition and lifestyle interventions to help restore and rebalance your body in a way that suits your body function, lifestyle and helps you to achieve your personal health goals.
Days I'm available at EmotionMatters
Here are the days I can connect with you remotely
My fees
90 min consultation
£150
60 min follow up
£135
40 min follow up
£110
Qualifications & training
Postgraduate diploma in Personalised Nutrition
BSc (Hons) in Psychology at the University of Sussex
Qualified Neuro-Linguistic Programming Coach
Membership of professional bodies
Registered Nutritional Therapist
Member of The British Association for Applied Nutrition and Lifestyle Medicine (BANT)
Registered member of The Complimentary and Natural Healthcare Council (CNHC)
Qualified Neuro-Linguistic Programming Coach
How i offer psychotherapy
I work with clients across the UK, and around the world, using Skype, FaceTime & Zoom. There is no need to travel, and you can feel comfortable in your own home. It is free to set up and simple to use, so why not give it a try?
I offer sessions in English
LET US EXPLAIN HOW WE CAN SUPPORT YOU
If you are interested in meeting with a practitioner, feel free to book an assessment call with our Client Support team.

We want to understand what is going on for you, and help match you with the right practitioner.

We value being clear and open about our prices, so please check Our Fees  before booking a call.