Andreia Jennings
Existential Integrative Psychotherapist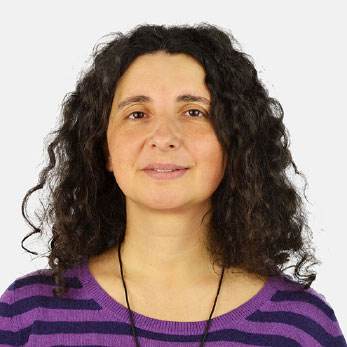 I have gained an MA in Existential Psychotherapy. As a psychotherapist I draw upon my existential training and on the phenomenological method, which allows my clients and I to gain an understanding of their way of 'being-in-the-world'.
While growing up we develop various coping mechanisms, which allow us to function and get on with our lives. However, our life circumstances change and we ourselves also keep changing, but sometimes we continue to use the same coping mechanisms, which instead of helping us, hinder our development and self-fulfilment. Our inner discourse may become stuck in rigid views of ourselves, we can repeat unhelpful patterns of behaviour and become unable to escape our daily mental confinements.
Therapy opens our inner conversation to a dialogue with an-other in a safe and non-judgmental environment, so we can gain new perspectives on our private and social lives, and see that are other ways of addressing ourselves and the world. It helps us to become self-aware and more honest with ourselves giving us balance and assurance to step more courageously into the unknown.
Days I'm available at EmotionMatters
Here are the days I can see you in person or connect with you remotely
My fees
Standard session
£130
Standard 4-session block
£480
Half Breakthrough Day
£500
Qualifications & training
Following my training, I have attended and continue to attend many other short courses, e.g. working with trauma, abuse, anxiety disorders, substance addiction, eating disorders, depression, psychotic states, postnatal depression, gay & lesbian issues, personality disorders.
2017 Gut-Brain Axis, The Hungry Brain – WeightMatters Training Academy
2017 Working with suicidal clients – Woman's Trust
2017 Introduction to autism – The National Autistic Society
2017 Autism and communication – The National Autistic Society
2017 Keeping safe: vulnerable clients, courts and evidence – Woman's Trust
2017 Obesity Management & Food Addiction – WeightMatters Training Academy
2016 Understanding drugs and addiction course – King's College
2016 Integrating the Psychiatric Diagnosis and Treatment of Eating Disorders – WeightMatters Training Academy
2016 Essential Nutrition When Working With Eating Disorders – WeightMatters Training Academy
2015 Therapeutic work with severely disturbed children – nscience
2015 C.G.Jung's quest for Aurora Consurgens – The Guild of Pastoral Psychology
2015 Body-mindful presence: practical contemporary applications from integrative body psychotherapy – nscience
2015 Working with personality disorders – Greenwich MIND
2015 Marion Milner – Her work on creativity and its blocks – WPF therapy
2014 Attachment theory & close relationships – nscience
2014 Perversion: a psychoanalytic approach – nscience
2014 The psychodynamics of body dysmorphia – nscience
2014 Living and working with dissociation – PODS (Positive Outcomes for Dissociative Survivors)
2013 Thinking about gender and sexual diversity – Greenwich MIND
2013 Reflections on betrayal – The Guild of Pastoral Psychology
2013 Psychosis – TCCR
2013 Unconscious psychological trauma – nscience
2013: Female creativity and the narcissistic wound – C.G. Jung club
2012 Chronic trauma and neglect – Greenwich MIND
2012 Exploring existential conscience in therapeutic practice – Authentica
2012 The intellectual plague of biologism – Inner Circle Seminars
2012 From stress to psychosis: how to prevent people having breakdowns – Human Givens College
2011 Bipolar disorder – Greenwich MIND
2011 Applied suicide intervention skills training – ASIST
2011 Dissociative states and child abuse – WPF therapy
2011 When mummy wants you to die: the role of infanticidal wishes in the genesis of psychosis – WPF therapy
2010 De-mystifying postnatal depression- Greenwich MIND
2010 Hearing voices – Greenwich MIND
2010 PTSD and mental health workshop – Greenwich MIND
2010 The heart of phenomenology – Society for Existential Analysis
2010 Effects of postnatal depression on child development – Greenwich Child & Adolescent Mental Health Services
2009 Domestic violence/forced marriage awareness training – MIND in Tower Hamlets
2009 Existential perspectives on supervision – Society for Existential Analysis
2009 Catharsis in Antiquity- Association of Jungian Analysts
2008 Working with depression – MIND in Tower Hamlets
2007 Family transitions: learning from research and intervention studies- TCCR
2006 Training in Bereavement counselling – Lewisham Bereavement Counselling
2006 Community drug education project: Drug awareness training course
2005-2010 MA Existential psychotherapy & counselling
Membership of professional bodies
UKCP Registered Member
BACP Member
UPCA Accredited Member
How i offer psychotherapy
I work with clients across the UK, and around the world, using Skype, FaceTime & Zoom. There is no need to travel, and you can feel comfortable in your own home. It is free to set up and simple to use, so why not give it a try?
I offer sessions in English and Romanian
LET US EXPLAIN HOW WE CAN SUPPORT YOU
If you are interested in meeting with a practitioner, feel free to book an assessment call with our Client Support team.

We want to understand what is going on for you, and help match you with the right practitioner.

We value being clear and open about our prices, so please check Our Fees  before booking a call.