Tabitha Hall
Nutritional Therapist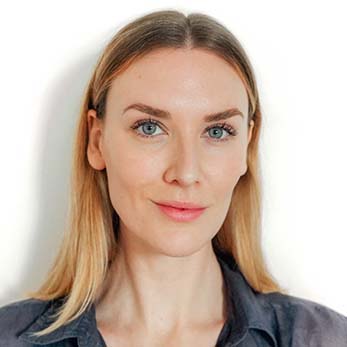 My journey with nutrition began with my mother, who was diagnosed with Multiple Sclerosis when I was a teenager and I noticed how her food and lifestyle affected her well being, and the importance it played in a disease with few medical options. In my early twenties, I myself developed an autoimmune condition that allowed me to understand this further and ultimately empowered me to want to help others.
I knew I wanted to learn a science-based approach to nutrition, and to truly understand the mechanisms and inner workings of our bodies. I enrolled at the British College of Nutritional Health, which partnered with a BSc Hons in Nutritional Therapy that focused on a Functional Medicine approach, which seeks to identify the root cause of conditions while understanding everyone is biochemically and genetically different.
After graduating and beginning practice as a Nutritional Therapist, my personal experience within the fashion industry led me to search out additional training at the National Centre of Eating Disorders, to enable me to create a positive mindset of food for my clientele. This diploma, which is approved by the British Psychological Society Learning Centre and by the Royal College of Psychiatrists, not only allows me to work within disordered eating spectrum but also has allowed me to understand the psychology around eating.
Since becoming a Nutritional Therapist I have worked with people from all backgrounds, and a wide range of health concerns. I have a passion for helping women with hormone concerns, people with autoimmunity, gut issues, weight maintenance and disordered eating. Whether someone is wanting to make small important changes to their lifestyle to improve their long term health outcomes, or wants to get a deep understanding of their body's unique needs, there is always more to know and boundless potential to feel better, live better, and be better to ourselves. I love helping people find those answers.
I am a Registered Nutritional Therapist & Eating Disorder Coach, a member of The British Association for Applied Nutrition and Lifestyle Medicine (BANT) and The Complimentary and Natural Healthcare Council (CNHC).
My approach is empathic, supportive and science-based. My goal at Health Matters is to give people the tools to help themselves, to understand their bodies in a unique way, and to positively empower changes that will deliver lifelong benefits.
My fees
90 min consultation
£150
60 min follow up
£135
40 min follow up
£110
Qualifications & training
BSc (Hons) Nutritional Therapy
BCNH diploma in Nutritional therapy
NCFED diploma for Excellence in Practitioner Skills for Eating Disorders
Membership of professional bodies
LifeCode Gx, Professional Genotype Analysis – Mastering the Web of Women's Hormones: The Master Controller: the HP-OAT Axis. May – June 2021
National Centre For Eating Disorders – Essential Obesity: Psychological Approaches – June 2020
Precision Analytical Training for Practitioners – DUTCH hormone testing
Trained in Hormone, OAT, CAR, Stool test analysis – Genova, Invivo Clinical, Precision Analytical, Great Plains
Proficient in blood work analysis
Analysis of women's hormone genotypes
How i offer psychotherapy
I work with clients across the UK, and around the world, using Skype, FaceTime & Zoom. There is no need to travel, and you can feel comfortable in your own home. It is free to set up and simple to use, so why not give it a try?
I offer sessions in English
LET US EXPLAIN HOW WE CAN SUPPORT YOU
If you are interested in meeting with a practitioner, feel free to book an assessment call with our Client Support team.

We want to understand what is going on for you, and help match you with the right practitioner.

We value being clear and open about our prices, so please check Our Fees  before booking a call.