Samantha Russell
Counselling Psychologist in Training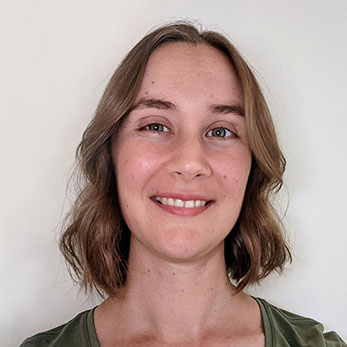 I believe that all of us walk around, every day with a desire to be truly heard. A staggering number of us spend significant time feeling alone, anxious, misunderstood, worthless, or that we are somehow 'broken'. However, the acts of empathic listening, encouraging, teaching, and non-judgement are powerfully healing. These values are at the core of my counselling practice.
This means that through our work together, we will explore your experiences, thoughts, beliefs, and emotions, before we collaboratively develop a plan for what might work best for you in therapy. As a Counselling Psychologist in training, I am trained in a variety of psychological approaches, and am currently focussed on cognitive behavioural therapy. Essentially, this means our work together will be individually tailored to you and your individual needs, while also being grounded in scientifically supported practices. It is my goal that, therapeutically, our work will lead to real, lasting change supported by insight and understanding.
I have worked as a counsellor for over five years in New Zealand (where I'm from), South Korea, Sweden, and the UK. I have experience working with a range of issues including depression, anxiety, bereavement, sexuality and gender, eating disorders, chronic illness, carers, and cultural difference/acclimation. There is nothing too big or too small to bring to therapy. I am here to help and support you in a safe, confidential space.
DAYS I'M AVAILABLE AT EMOTIONMATTERS
Here are the days I can see you in person or connect with you remotely
My fees
Standard session
£60
Standard 6-session block
£330
QUALIFICATIONS AND TRAINING
2019-Present: Doctorate in Counselling Psychology (Final Year), Roehampton University London
2019: Diploma in Clinical and Pastoral Counselling, Glasgow Caledonian University
2017: Certificate in Clinical and Pastoral Counselling, Glasgow Caledonian University
2015: Certificate in Eating Psychology Coaching, Institute for the Psychology of Eating
2011: Master of Arts in Social Anthropology (1st Class Honours), Massey University, Auckland, New Zealand
2009: Bachelor of Arts in Psychology & Social Anthropology, Massey University, Auckland, New Zealand
MEMBERSHIP OF PROFESSIONAL BODIES
Graduate Member of the British Psychological Society (BPS)
Member of BPS Division of Counselling Psychology
HOW I OFFER PSYCHOTHERAPY
I work with clients across the UK, and around the world, using Skype, FaceTime & Zoom. There is no need to travel, and you can feel comfortable in your own home. It is free to set up and simple to use, so why not give it a try?
I offer sessions in English
LET US EXPLAIN HOW WE CAN SUPPORT YOU
Talk with our assessment team, who can listen to your story and needs, and help you find the right practitioner for you, and book you in for a Free 30 Minute session to meet with one of our therapists.