Laura Lanza
Trainee Psychotherapist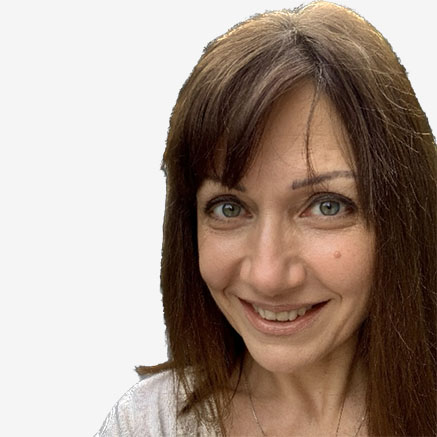 How I work
My way of working is informed by a number of theories and modalities that I use to create bespoke therapy. I love providing tools designed to gain or regain control of yourself, I tend to be very practical so I ask my clients their preferred learning style and then together experiment with what works for them and what doesn't. If they feel, 'they have made a mistake' or they 'haven't been good' (so to speak) we also work on becoming aware of and changing the language with which they address themselves, as often language determines the degree of self-belief and (or) self-sabotage.
Change or wanting to change, could in itself be a stressor factor, I love the words of Gandhi: 'There is more to life than increasing its speed'.
I believe that amazing things happen when your mind is in a suitable space and positive change occurs when people feel heard, understood and celebrated.
I see therapy as a 'positive familiar space, where life slows down,' and my client can explore meaning, choice and mastery. They can safely bring and work through their issues around weight, eating, food and body image as well as emotions and patterns of behaviours that perhaps have affected their choices and (or) habits.
Who I am
Last year I qualified as an Integrative Counsellor and currently I am completing my degree (BA Hons). I am registered with the British Association for Counselling and Psychotherapy, (BACP registration number: 396419) and the Association Of Christian Counsellors (ACC registration number: R001375).
I am passionate about considering each person as unique and as a whole, C. S. Lewis said: 'You don't have a soul, you are a soul, ..you have a body.'
I believe that when a person doesn't have the chance to express their deep beliefs, emotions and fears, the energy produced by these gets trapped in their body causing all sorts of ailments which go undetected. It is only when people become sick that they go to the doctor… as the symptoms that something is wrong have influenced their lives to the point that they cannot cope to do things 'as usual' any longer.
I have over 15 years of working experience in the Health and Social Care sector. During this time I felt, 'first hand' the stress of working at the frontline and the physical impact of night shift work. Finally, the destructive imbalance between personal beliefs, family life and long working hours resulted in burnout and as it happened, every sphere of my life was affected and came 'tumbling down.' It was then that I decided to 'dig deeper foundations' and create a better 'home' for myself, one that would stand the storms of life. What I mean by this, is that I had to do some 'soul searching' and modify my life in a way that I felt safe to change my behaviour; starting with a career change. Shortly afterwards I was able to start losing weight and being more compassionate towards myself. Cassandra Clare said, 'There is more to life than surviving,' and I said, 'it's time to live!'.
Days I'm available at EmotionMatters
Here are the days I can see you in person or connect with you remotely
My fees
Standard session
£65
Standard 4-session block
£240
HOW I OFFER PSYCHOTHERAPY
I work with clients across the UK, and around the world, using Skype, FaceTime & Zoom. There is no need to travel, and you can feel comfortable in your own home. It is free to set up and simple to use, so why not give it a try?
I offer sessions in English
LET US EXPLAIN HOW WE CAN SUPPORT YOU
If you are interested in meeting with a practitioner, feel free to book an assessment call with our Client Support team.

We want to understand what is going on for you, and help match you with the right practitioner.

We value being clear and open about our prices, so please check Our Fees  before booking a call.