Isabelle Nussbaum
Integrative Psychotherapist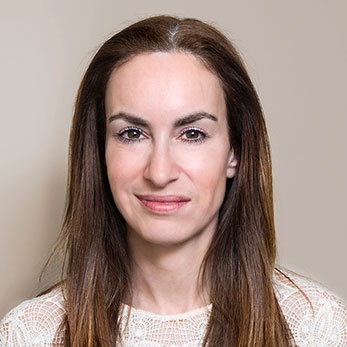 I am an integrative, bilingual counsellor and psychotherapist with 6 years of clinical experience. The integrative perspective allows me the flexibility to use different therapeutic tools and approaches in order to meet your unique characteristics and needs as a client. My aim is to respond to the whole person, with regards to emotional, physiological, cognitive, and behavioural as well as to spiritual beliefs.
Furthermore, I work relationally and inter-subjectively, believing that a therapeutic relationship is co-created, by both therapist and client.
I have worked in a variety of settings such as the NHS, Priory Hospital, non- profit organisations (Domestic Abuse and Trauma) , a multi-ethnic low cost therapy service which provides therapy in up to twenty different languages and in private practice. I offer short and open ended therapy and have experience in different presentations including: addiction, anxiety, abuse, age related issues, bullying, career and work related stress, depression, dementia and carer support, loneliness, low self-esteem, loss and bereavement, relationship issues, stress and trauma.
I strongly believe that a safe and non-judgemental space is the foundation for emotional healing and helps to create a secure enough working alliance between therapist and client. Once this is established you and I can explore the difficulties you are facing in the here and now and connect them back to experiences from the past. I would like to help you to see things from a different perspective and to gain clarity with the aim to live a happier and more fulfilling life.
Days I'm available at EmotionMatters
Here are the days I can see you in person or connect with you remotely
My fees
Standard session
£100
Standard 6-session block
£530
Off peak
£85
Off peak block
£450
Qualifications u0026amp; training
2019 -EFT (Emotion Focused Therapy) level 1-ISEFT
2019 – Trauma Informed Stabilisation Treatment: Working with Substance Abuse, Eating Disorders, Compulsive Self-Harm and Suicidality-Psychotherapy Excellence
2019 – Running 12 Step program groups-Priory Hospital North London
2018 – Central and North West London NHS Foundation Trust-mandatory training in:
Equality, Diversity and Human Rights
NHS Conflict Resolution
Safeguarding Adults
Preventing Radicalisation
Safeguarding Children
2017 – 2019-Diploma in Spiritual Development- Brenda Davies School of Healing &Spiritual Development
2017 – Congress Attachment and Trauma The resilience of mind and body-ISC international
2017 – Introduction Course Domestic Violence and Abuse – JWA
2014 – Sexual Abuse-Birkbeck Counselling Association
2011 – 2017 MA in Integrative Psychotherapy and Counselling- The Minster Centre
2014 – Diploma in Integrative Counselling- The Minster Centre
2011 – Certificate in Psychotherapy and Counselling- Regent's University
Membership of professional bodies
UKCP (accredited and registered)
BACP (member)
The Minster Centre
How i offer psychotherapy
I work with clients across the UK, and around the world, using Skype, FaceTime & Zoom. There is no need to travel, and you can feel comfortable in your own home. It is free to set up and simple to use, so why not give it a try?
I offer sessions in English