Cathy Heseltine
Gestalt Psychotherapist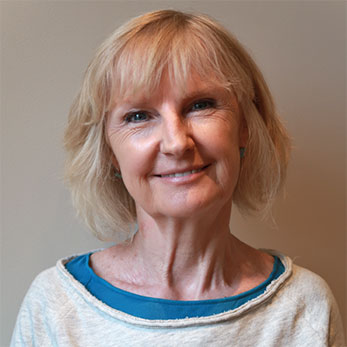 I am a Gestalt Psychotherapist with experience working with clients on a range of issues including childhood trauma, anger management, bereavement, identity, relationship breakdown, anxiety and depression.
As a Gestalt therapist, I consider that everyone has an inherent ability to live a satisfying and creative life, but that we can become stuck in fixed patterns and beliefs that get in the way.
I will work with you to uncover what is underlying your current difficulties. I will be led by you and I will support you to develop your own insights and find those resources which will best support you to change: to become 'unstuck'.
I work in the 'here and now' as much as possible, by which I mean I notice and draw attention to what is happening in the moment, including between us, as a way of raising awareness of your patterns.
I am non-judgemental and encourage an atmosphere of safety, mutual trust and hope; I believe that this is crucial to support you and to enable change.
DAYS I'M AVAILABLE AT EMOTIONMATTERS
Here are the days I can see you in person or connect with you remotely
MY FEES
Here are the days I can see you in person or connect with you remotely
STANDARD SESSION
£90
STANDARD 6-SESSION BLOCK
£470
OFF PEAK
£75
OFF PEAK BLOCK
£390
QUALIFICATIONS & TRAINING
MSc and Diploma in Gestalt Psychotherapy (Metanoia Institute/Middlesex University). Including:

Working as a counsellor/psychotherapist for West London Centre for Counselling, for Woman's Trust (for survivors of domestic abuse) and for Metanoia Counselling and Psychotherapy service.
Placement at: Homerton Hospital (psychiatric unit) and Community Housing and Therapy (residential care for people with mental health difficulties).
Workshops focused on: 'working with women affected by domestic violence', 'working with violence in relationships', 'assessment and diagnosis', 'NHS for mental health', 'the threat of suicide' and 'self harm and self care'.

BA (Hons) Business Studies
MEMBERSHIP OF PROFESSIONAL BODIES
BACP Member (British Association of Counsellors and Psychotherapists)
HOW I OFFER PSYCHOTHERAPY
I work with clients across the UK, and around the world, using Skype, FaceTime & Zoom. There is no need to travel, and you can feel comfortable in your own home. It is free to set up and simple to use, so why not give it a try?
I offer sessions in English
LET US EXPLAIN HOW WE CAN SUPPORT YOU
Talk with our assessment team, who can listen to your story and needs, and help you find the right practitioner for you, and book you in for a Free 30 Minute session to meet with one of our therapists.