Gian Montagna
Integrative Psychotherapist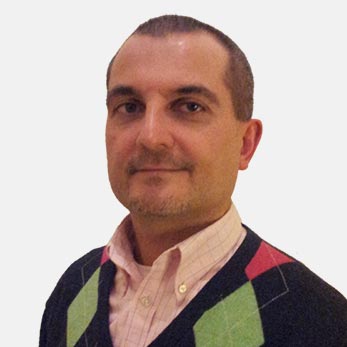 About Me
Hello, I'm Gian. I am a psychotherapist who has worked in various settings (including NHS Primary Care) and in private practice for the last 15 years. I am interested in helping you understand your struggles and the obstacles that are stopping you from becoming more of "who you may be".
My search for a meaningful and purposeful life has led me to Transpersonal Psychology, which changed my life forever, and I believe the same potential for meaningful change, health and happiness exists in each individual.
I was born and grew up in Italy and since my teenage years I sensed that there was a life that was "bigger than me" and that there was "an invisible thread" that linked each and every person around me. My personal journey of discovery started by exploring my relationship to my own spirituality (in the wider sense of the term, as a connection to the wider world and humanity).
This journey led me to meet other people and thinkers that were curious about living a meaningful life, and the relationships we share with our fellow humans. At this time I realised one of the most important beliefs of my life, is about understanding that, as individuals, we don't live in isolation, and that the actions each of us takes, has repercussions on everybody else. Hence a profound sense of potential emerged for me around the possibility to direct my actions towards supporting and helping others, which eventually led me to become a therapist.
Here to Help
As an integrative Psychotherapist, my approach to therapy involves both raising awareness and engaging with Will (your energy to drive change). My aim is to help clients empower themselves to be as effective as possible in engaging with the change they want for themselves, and I found that, drawing from various theories and techniques such as Psychosynthesis, Cognitive Behavioural Therapy, Solution Focused Therapy, and Gestalt Therapy effectively helps me adapt my style of working to the needs of my clients. Moreover, I can undertake therapy both in English and Italian.
As a therapist, I put my clients at the centre of what I do, and one way this shows is by working together towards your goals in a collaborative manner, in a safe, supportive and non-judgemental environment.
For me, it is essential that you feel like 'the' agent of your own process of change, rather than feeling controlled by various factors, such as your eating habits. Feeling, as much as possible, like you are in the driving seat, that you are making your own decisions, and notice, at the same time, the difference this is having, can make a huge difference in terms of your confidence level and engagement with the therapeutic process.
If you are reading this, you might have arrived at a crossroads around your emotions. Instead of wanting to continue feeling as if your emotions are controlling you and your life, this is probably the time when you want to feel motivated to make a difference and feel like you are getting as much control back as possible into your life. At this time, I can put my experience at your service, and walk alongside you on your journey towards a greater freedom from old emotional and cognitive habits.
An initial session will help both of us gather some history of how things have been for you around your thinking and emotional patterns (your awareness), and to start exploring your objectives for therapy (your Will). We will look at the things that you would like to keep, change, and leave behind in life (Will). During the whole therapeutic process, I will support you while engaging with a conscious process of change through a series of steps/choices that involve activation of your Will. We will look at your growing insights into your issues as you engage with this process, and I will support you find your own ways to overcome obstacles and go beyond those issues.
Days I'm available at EmotionMatters
Here are the days I can see you in person or connect with you remotely
My fees
Standard 6-session block
£650
Qualifications & training
2018 CBT Approaches to Working with PTSD – Survivors UK (London)
2018 Trauma and Psychosis – Survivors UK (London)
2018 Group Facilitation Course – Psychosynthesis Trust (London)
2017 Diploma in Transpersonal and Integrative Supervision – Psychosynthesis Trust (London)
2017 Conference: Gay MentalK Health – Therapeutic Issues Working with Gay Men – Pink Therapy (London)
2016 Dyslexia Support Training – Psychosynthesis Trust (London)
2016 Working with Couples – Anchor Counselling (London)
2016 Vicarious Trauma Training – Missing People (London)
2014/15 Diploma in Relationship Therapy with Gender and Sexual Diversities – Pink Therapy (London)
2015 Working with Mental Illness – City Lit (London)
2015 Psychology of Attachment – City Lit (London)
2014 Ways into working with couples – City Lit (London)
Teaching Clients to use Mindfulness – Stanton Psychological Services Ltd (London)
BACP Practitioner's Conference – British Association of Counselling and Psychotherapy
2013 General Certificate in Online Counselling – Online Training For Counsellors
2013 Aletrnative Sexualities Certificate – Pink Therapy (London)
2012 Psychosynthesis Somatic Experiencing and Trauma: WS I – Ground (On Purpose Consulting Limited)
2012 Psychosynthesis Somatic Experiencing and Trauma: WS II – Anger and Boundaries (On Purpose Consulting Limited)
2011 Understanding male childhood sexual abuse and adult sexual assault/rape – Survivors UK (London)
2011 The Development of the Self & the Function of the Therapeutic Alliance – Pink Therapy (London)
2011 Using CBT to work with PTSD – British Psychological Society (London)
2011 Self Care for Counsellors and Therapists – Phoenix (London)
2011 The Therapeutic Impact of working with men who have experienced child sexual abuse or adult sexual assault/rape – Survivors UK (London)
2011 Gender Identity Clinic Training days – Gender Identity Clinic – Charing Cross Hospital (London)
2010 Facilitating Therapeutic Groups – City Lit London
2010 Effective Telephone Counselling (Talk to a Counsellor London)
2008/9 Practitioner Certificate in Cognitive Behavioural Therapy for Anxiety and Depression – Metanoia Institute (London)
2009 Telephone Counselling – WPF (London)
2009 Running Groups For Sexual Minorities (Pink Therapy London)
2008 Introcution to CBT – Institute of Psychosynthesis (London)
2008 Understanding Sight Loss course – RNIB (London)
2008 Understanding Low Vision Workshop – RNIB (London)
2008 An Introduction to Psychosexual Therapy with Gender and Sexual Minorities – Pink Therapy (London)
2008 Self-Esteem Injury and Social Context – Piink Therapy (London)
2008 Psychosexual Therapy and talking to clients about sexual health – Pink Therapy (London)
2003/7 MA in Psychosynthesis Psychotherapy (UKCP Accredited Professional Course) – Institute of Psychosynthesis (London)
2005 Introductory course in Solution Focused Brief Therapy with – BRIEF (London)
1998/2003 PG Diploma in Psychosynthesis Therapeutic Counselling – Institute of Psychosynthesis (London)
Membership of professional bodies
UKCP registered

Registered Member of BACP
How i offer psychotherapy
I work with clients across the UK, and around the world, using Skype, FaceTime & Zoom. There is no need to travel, and you can feel comfortable in your own home. It is free to set up and simple to use, so why not give it a try?
I offer sessions in English